A sinister secret side of me wishes I could easily fit into all overhead storage compartments. Having tried and (miserably) failed, I have since devoted my time to finding the most versatile travel essentials to bring with me on every trip. Will always save time, pack light and in style.

#1. Leggings:
Are your best friend, being the sculptural extension of your legs. I've never found an item of clothing that made me more comfortable and less insecure than a pair of good leggings. Incidentally, it's almost like wearing pajamas without being judged!
The Warmup Leggings ($75) from Outdoor Voices feel almost like your second skin. Will also "flatter, lift and tone" all in one, without being too tight! Made with excellent fabric, these won't awkwardly pull or pinch. Come with a nice little inside pocket too, in case you want to stow away some precious goods.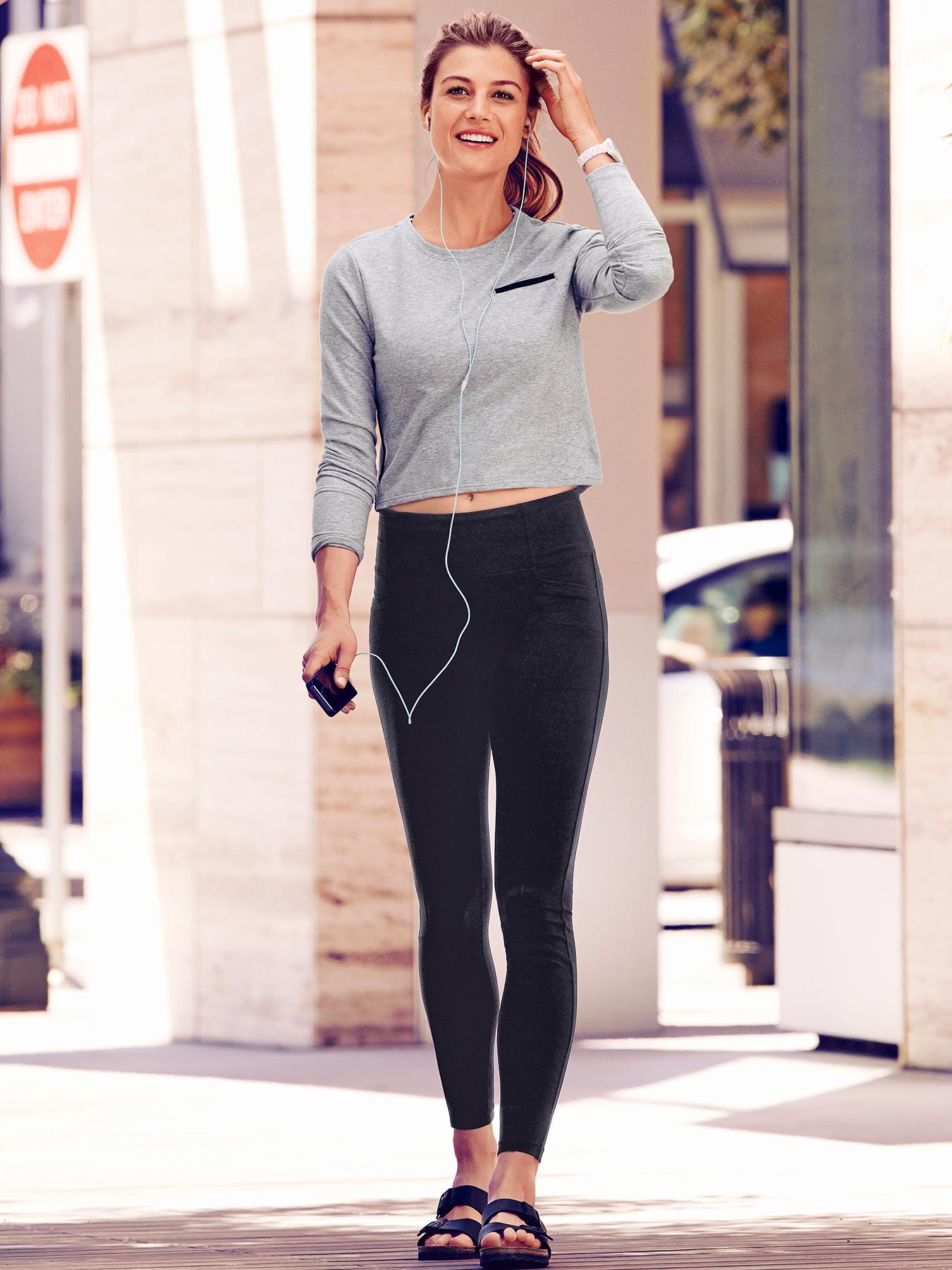 For a slightly more structured pant look, these Metro High Waisted Leggings ($79) from Athleta offer jean-like pockets on the front and back. Flatter all the right places, along with a high waist band. Wash well, with a long shelf life.
For a bit fancier impression (my fave!), the Spanx Faux Leather Leggings  ($98) are incredibly comfortable with an added shiny edge. High-waisted for medium control support, and slimming to make your legs run for days. Come in multiple colors and sizes.
---
#2. A Large Scarf:
Is like that magic lamp in Aladdin. On your wish, it seamlessly turns into a pillow, blanket, or drapes perfectly over a blazer.
The Diamond Mosaic Blanket ($85, 51″ x 63″) is made with Australian wool and soft to the touch. Comes in multiple colors, with coy fringe ends. If you're looking for a less expensive option, Old Navy has an elegant Flannel Blanket Scarf ($22.99) that's soft, but not too heavy. And if you want a great cashmere option, this Cashmere Ruffle Wrap ($169) is elegant and light. Will easily go from scarf to a wrap, for all reasons and seasons!
---
#3. A Water Bottle:
Hydration keeps that skin looking supple during a flight (two small cups is never enough water, let's be honest!). It also flushes out toxins, helping shed those pounds before the holiday season. Try the Hydrapack Stash Water Bottle ($25) that's BPA free, with a lifetime no leak warranty. Full size is 7.8″ but collapses to 2.4″, easily sliding into your bag.  Will keep you hydrated with 32 oz of water, just make sure to find a water fountain once you're at the terminal. Now you're one step closer to less prun-y skin.
---
#4. The Perfect White Tee: 
Is your ultimate travel companion worn for any occasion. The Everlane Cotton Crew ($16) is made with soft 100% cotton, sporting slim, short sleeves. Not sheer, or too short, coming in many versatile colors. For something with a V-neck that's a little longer, try the Truly Madly Deeply from Urban Outfitters ($34). Just size down as it tends to run large. For the winter months, the Everlane Peema Stretch Long Sleeve Shirt ($28) fits close to the body with a soft crew neckline. Easy to layer and comfortable with a little bit of needed stretch.
---
#5. Compression Socks and Flip Flops:
Will keep your ends warm and healthy! Throw on these compression socks ($16.95) during a flight and never get swollen ankles again! Plus these will keep you warm and  comfy, with a cushioned bottom. If you're running around the hotel like I do when I travel, make sure to have these Havaianas flip flops ($12.99) in your bag. Just slide-on-anywhere in the room, post shower or a run to the front desk. 
---
#6. Headphones:
Will save you from the guy that just can't stop snoring! Just pop in these Beats by Dr Dre Wireless Headphones ($99.00) into your ears for amazing sound of your favorite DJ / movie. Everything you need to get away, if only for a moment.
---
#7. Snacks:
Are essential for travel, when one never knows the next meal time, or its ingredients. These Quest Bars ($26.67, 12) pack little sugar (0-3 grams), good amount of protein (20 – 21 grams) and enough calories (170 – 210) in case you don't get a chance to eat lunch. Another great option are these raw and unsalted almonds ($24.69, 48 1 oz bags). Individually wrapped, so easy to transport. Full of healthy fat, protein and fiber. Only 160 calories per pack.
---
#8. Makeup & Jewelry Case:
Is a must while traveling. This Stackers Makeup and Jewelry allows you to bring one case for your makeup AND jewelry ($39.99, 9.25″ x 3.25 x 6"). Features a zippered top with lots of space for your makeup, as well as a bottom portion that quickly organizes your jewelry. The necklace clips are my fave, keeping those annoying necklace tangles away!
---
#9. The Emergency Toiletry Kit:
Will promptly rescue you from those last minute period cramps, spills, or hair tangles! This toiletry kit I pulled together includes everything you'll need to keep you on the go!
---
Get It Done. Save Time. In Style.
– Marie Krol