I stumbled upon a major epiphany that I forgot my earplugs for a flight, when I got a splitting headache sitting next to a guy that wouldn't stop snoring. Save time with the below To Go Toiletry to keep you organized AND sane on any trip.

BAG
This clear toiletry bag ($11.79, 6''x 8'') is the perfect size to fit all toiletries and is TSA approved. Made with strong pvc-coasted polyester fabric to keep your goods dry if anything spills. Also, clear in color so you're able to see all in plain view, and easy to clean. Comes with a strap buckle handle so you can hang on any rod.
---
EAR PLUGS
Ear plugs are key for travel. Drift to Sleep ($13.55, 20 pairs) ear plugs are the best — made of soft, lightweight foam. Boasting the highest noise cancelling rating of NRR 33, these ear plugs can handle noise. Reusable but come with 20 pairs. Travel case included.
---
BODY HYGIENE 
In case you feel a little smelly, GoodWipes with Tea Tree and Aloe ($9.35, 10) are great at removing body odor.  Alcohol-free, hypoallergenic, paraben free and pH balanced. Also, individually wrapped, and large enough (9.5" x 11.5" ) to clean all those body parts. To keep the freshness going, try this travel size Freedom Deodorant ($16.79, 3 units). It's chemical, aluminum and paraben free. Comes in multiple scents.
Having a few extra small, applicator free o.b. tampons, ($6.47,40) on hand are a must, in both a regular and super size. And to keep you fresh down there, Always ($24.89, 46 wipes) makes the best individually wrapped, on the go wipes with a soothing, yet durable feel. To top it off for those terrible cramps, always have packets of Advil on hand ($9.98 / 50).
---
TEETH CARE
This Travel Folding Soft Toothbrush ($5.95, 2) goes from 9″ to 4″ when closed, and comes with a protective plastic cap so it won't get dirty. Pair with Tom's of Maine Travel Anti-plaque Tartar Control Plus Whitening Toothpaste ($12.21, 6).
---
FACE CARE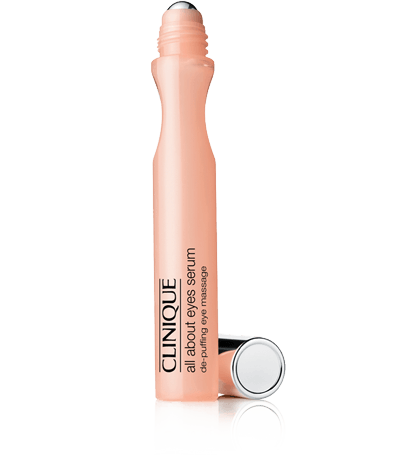 After a long flight, those puffy eyes may need a little help. The De-Puffing Serum stick by Clinique ($32.5, 0.5oz) comes with a top metal roller ball that's cooling, quickly rolling away puffy bags with invigorating ingredients of caffeine, antioxidants, and soothing botanicals.
Burt's Bees 100% Natural Moisturizing Lip Balm ($9.99, 4) will hydrate your lips with pomegranate oil so they never dry. No parabens, phthalates, petrolatum or SLS.
Individually wrapped face wipes are a must when traveling to refresh the skin post flight. La Fresh Makeup Remover Cleansing Travel Wipes ($18.26, 50) are infused with Vitamin E, best for sensitive skin.
---
HAIR CARE
Dry hair shampoo is the ultimate time saver during travel, extending the blow out by a few days. This travel size Bumble and Bumble Prêt-à-Powder ($13, 0.5oz) is non-aerosol, quickly absorbing oil while adding volume.  Won't leave any residue, just make sure to put on roots and work well through hair.
This Round Folding Pocket Hair Brush Mini Hair Comb with Makeup Mirror is big enough to work through those tangled strands but small enough to fit anywhere. Made with eco-friendly material and comes with a mirror.
---
HAND AND NAIL CARE
Always have a travel size nail file ($6.09, 12) on hand for those horrible nail breaking moments. Pair with Pacifica's 7 Free Base and Top Coat ($9, 0.45oz). To make that manicure last longer, just apply one coat a day after. Can also work instead of the manicure adding a clear coat. This product is 100% vegan without any harsh parabens, phthalates (dibutyl phthalate), toluene, xylene, camphor, formaldehyde, and resin.
As you run through the airport, you pick up countless bacteria on my hands. This CleanWell Natural Hand Sanitizer Spray ($3.58, 1oz) is a quick way to sanitize. Just throw in your bag and you're one step closer to avoiding the flu season. Then to moiturize, try the CeraVe Face and Body Moiturzer for Dry Skin in travel size.
---
CLOTHES CARE
These individually wrapped Shout Portable Wipes ($8.33, 24) are the answer to your stain prayers. And then there's the wool coat that's covered in hair. Use this Flint Re-Usable Lint Roller ($9.95) to ensure you're always lint free. Sleek and functional!
---
Check out this post for other travel items, including a cosmetic case that combines your makeup and jewelry in one.

---
Get It Done. Save Time. In Style.
— Marie