I'll be honest. My two massive totes stuffed with workout clothes / daily snacks / makeup are painful to organize and make me look like a bag lady. And not the good kind. It's time to upgrade to a practical work to the after work workout bag. Check out both chic and hipster options below. Great for your style AND posture.
CHIC: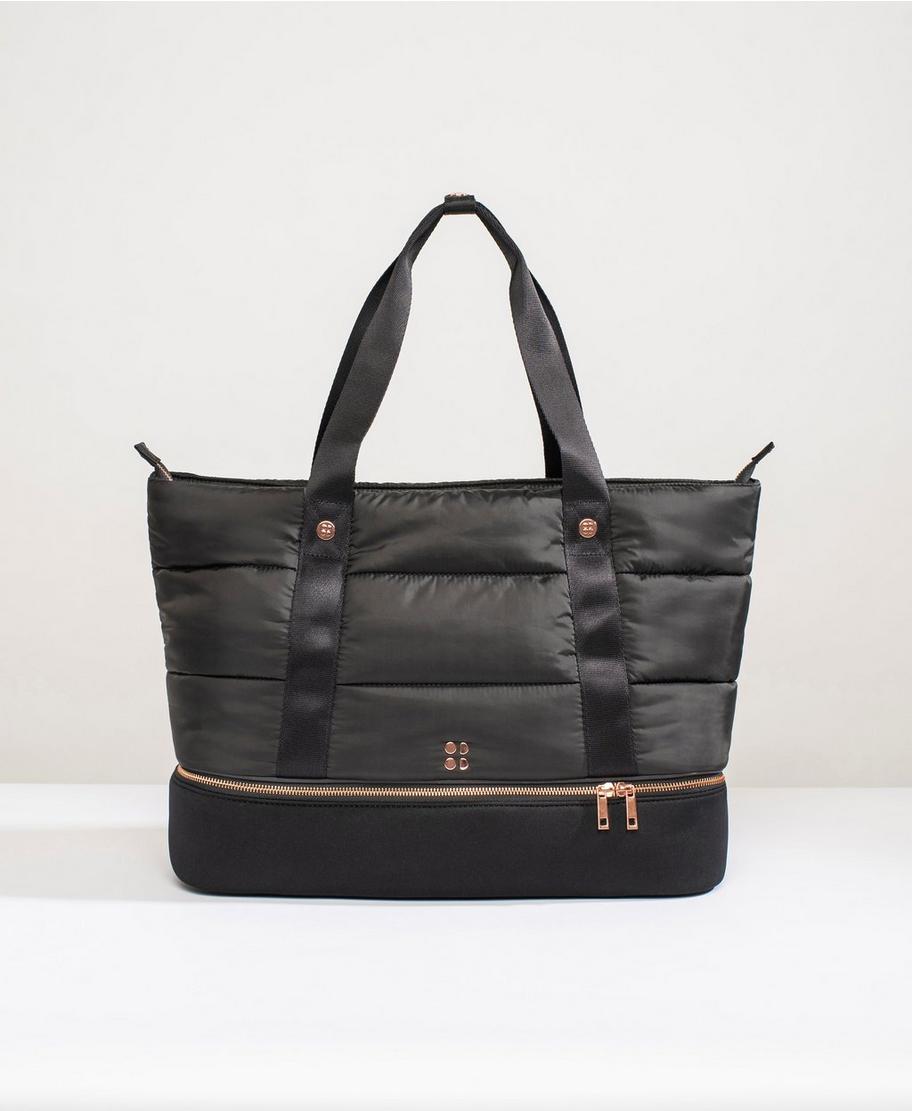 For a chic yet practical option, the Luxe Gym Bag from Sweaty Betty ($165, 10″ x 17″ x 9″) is durable and lightweight. Sports a bottom section to fit your shoes, as well as lined inner pockets for your toiletries and a spot for your water bottle. Very thoughtful little gym bag with its clip handles, separate waterproof compartments, and a strap for your yoga mat. Will easily double as your weekender.
---
My all time favorite is the Caraa Sport Tote ($295, 12" X 20" X 7.5"). Although a little pricey, this bag will get you from 7am to 9pm in comfort and style. Not only will it easily convert from a tote to a backpack, it's waterproof with a built in power bank and UBS charger.  Sports a separate pocket for your gym shoes, a wet compartment for those post workout clothes, and a slot for a yoga mat. Oh, and it will fit your 15″ lap top too.
---
A slightly more expensive option is the stylish MZ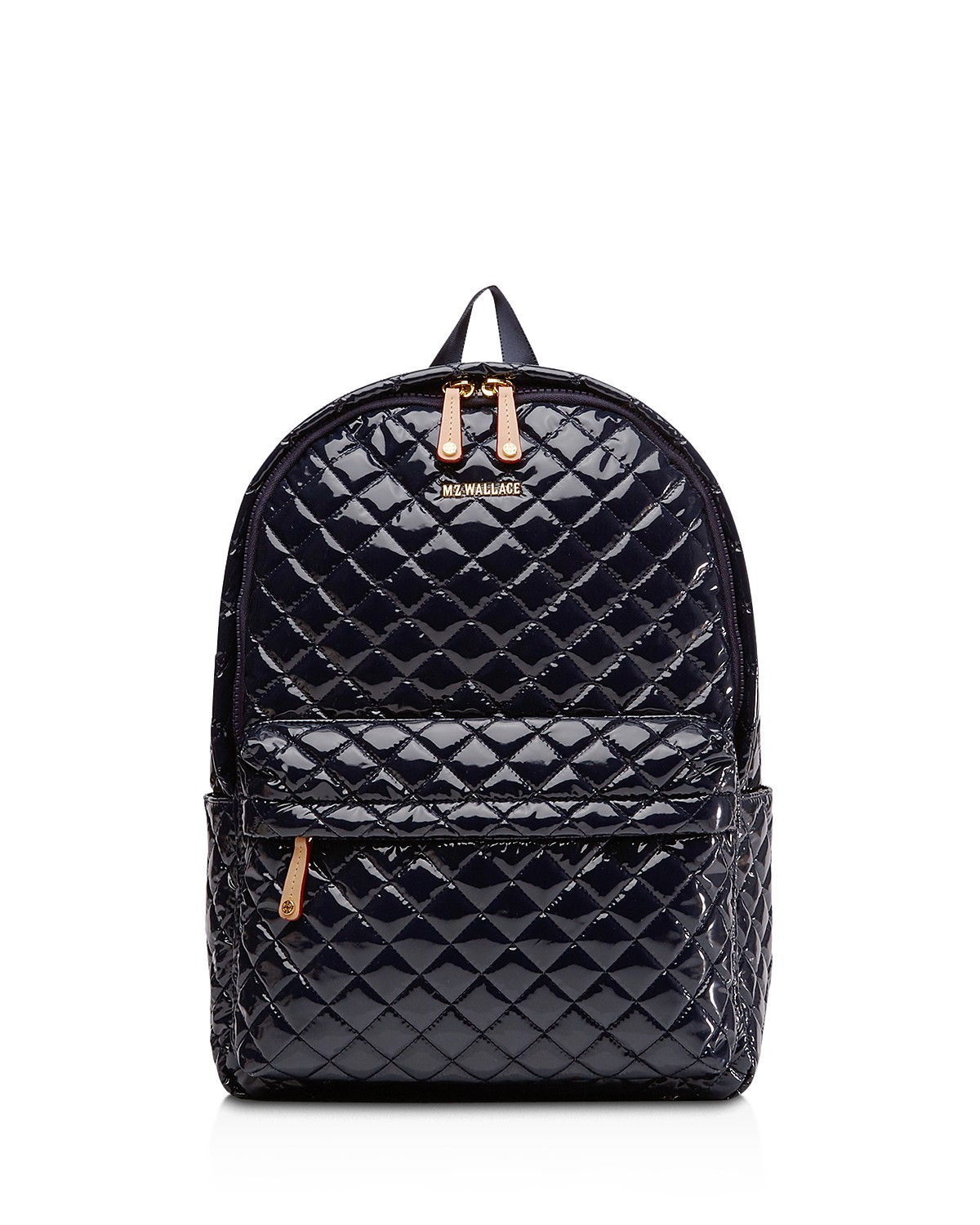 Wallace Metro Backpack ($245, 16.5" x12.5" x 5.5").  It's super light, sleek, with side pockets for your water bottle. Highly versatile for travel as it can be folded given its soft material. Also comes in a sleek lacquer finish ($245). For those of you who like the Metro Backpack but want something a little more flashy, the MZ Wallace Crosby Backpack ($345, 14.5″ x 11.75″ x 5.5″) is accented with black leather, sports three exterior zip pockets and a braided leather chain top handle to boot. All water and stain resistant.
---
Last but not least is the Tumi Calais Backpack ($345, 16″ x 12.5″ x $5.5″). With a 5 year warranty on travel pieces, Tumi is a good investment. There are a few smaller options but for the price tag, I like this one given it can also double for travel (I bring it to business meetings all the time).  The Tumi Calais is lightweight, sophisticated, has exterior zip pockets, and can fit a 15″ laptop in its padded laptop sleeve. Comes in a variety of colors and is also monogram-able for those of you who like to see your name on things (no judgement).
---
HIPSTER:
The Go Tote ($198, 14″ x 17.5″ x 5.5″) is your ultimate travel companion with a spot for your yoga mat, any sized laptop, and a water bottle. Just throw your shoes in the expand-able zipper compartment and go! Comes with a  machine washable laundry pouch and an adjustable strap. All you'll ever need to move all day long.
---
Everlane makes great bags – and the Modern Snap Backpack ($68, 18"x 12" x 5.5") is no exception.  The Modern Snap is sturdy, water resistant and price effective!  Also, features a double snap closure and comes in a variety of fun colors in case you want to have more than one (for the price may be worth it). If you prefer a single snap, this one ($65) is also a good option or the super sleek Nylon Commuter Backpack ($68). It's lightweight, water resistant, and features a front zip easy access pocket for your sunglasses, cell phone or work key card. All ethically made!
---
If you want a smaller alternative, the Swedish Fjällräven Kanken ($80, 15" x 10.3" x 5") backpack is cute, offers dual handles for a top hold and roomy (can fit up to 16L). The zippers completely open on both sides so no more digging through that backpack! If you like the Fjällräven Kanken but want something a little larger, the Fjallraven Kanek 2 ($130, 16" x 11" x 4") may be a fit. Unlike its smaller counterpart, it features a side pocket for your water bottle.  Fun fact – the Kanken was initially sold in 1978 to "help prevent back problems — seen among Swedish school children".  Now, that's real.
---
Get It Done. Save time. In Style.
— Marie Krol